AISSEE 2021 Highlights
AISSEE 2021 is scheduled to be conducted tomorrow, February 7.
AISSEE is a national level entrance test held to give admission to students of classes 6 and 9.
AISSEE is conducted in offline mode.
The exam for Class 6 will be held from 10 AM to 12:30 PM, while the exam for Class 9 will be held from 10 AM to 1 PM.
Reach the exam centre by 9 AM. No student will be allowed to enter the exam hall after 9:30 AM
NOTE FOR STUDENTS :
BARRED ITEMS:
Candidates are not allowed to take any of the following items inside the examination centre.There will be frisk (checking) with the help of hand held metal detectors before entering the exam centre. So candidates ensure that the following  items shouldn't be there with you.
Any stationery item (textual material (printed or written) bits of papers, geometry/pencil box, Plastics Pouch, calculator, pen, scale, writing pad, pen drives, eraser, electronic pen or scanner etc)
Any communication device (mobile phone, blue tooth, earphones, micro phone, pager, health band etc)
Other items like wallet, goggles, handbags, belt, cap etc.
Any watch or wristwatch, bracelet, camera etc.
Any ornaments /metallic item
Any food item opened or packed
Any other item which could be used for unfair means, by hiding communication device like microchip, camera, blue tooth device etc.
At the exam centre there will no arrangement made for candidate's belongings.
In case any candidate is found in possession of any of the barred items inside the centre it will be considered as use of Unfair Means and action will be taken against the candidate in accordance with the relevant provisions.
ALLOWED ITEMS:
Candidate are permitted to bring only the following items, to the examination centre:
Admit card with (with Self Declaration on it downloaded from NTA website) with passport size photograph and thumb impression affixed on it
One passport size photograph to be affixed on attendance sheet
Valid and original Photo ID proof
Personal hand sanitizer (50ml)
drinking water in a personal transparent water bottle
Face mask and gloves
Transparent ball point pen
NOTE FOR PARENTS/GUARDIANS:
Parents/Guardians kindly guide your wards before leaving home for appearing in AISSEE 2021.
-To maintain all health norms and safety with respect to covid-19 candidate should avoid coming with more than one escort (parent/guardian).
-After 9:30 no candidate will be allowed to enter the exam center. So to avoid any problem escorts should ensure their transport, timing etc., so that your ward will be on time at exam center.
-Candidate will be disciplined and follow the instructions given to them.
-Candidate are advised to have their good meal before the exam, they shouldn't be empty stomach.
– Escorts will ensure that above mentioned allowed items are there with their wards. To avoid any problem further at exam center.
-Avoid barred items at any cost.
-Candidate will co- operate with frisking staff at exam center.
-Candidate will report at the centre at the time indicated on his/her admit card.
-Regularly visit the website https://aissee.nta.nic.in and also check your registered email /sms for any exam update.
Hope this will give you a reminder of things to keep in mind, give your full effort for this exam if you have really a dream to study in sainik school.
HOW TO FILL THE DETAILS ON OMR SHEET FOR AISSEE – 2021
Sainik Schools Society (SSS) offers admission to Class VI and Class IX for the academic year 2021-22. Admission is based on the performance of candidates in the All-India Sainik Schools Entrance Examination (AISSEE) to be held on 07th Feb 2021.
AISSEE will be conducted in 176 Cities among 380 Centres for a total of 133515 Candidates (Class VI:- 98944 and Class IX:- 34571 ).
HOW TO FILL ROLL NO. ON OMR SHEET
If your ROLL NO is "25232572" (as printed on your admit card)
Fill the ROLL NO Digits in the given box and fill the respective bubble below.
(WATCH VIDEO ON HOW TO FILL OMR SHEET): https://youtu.be/1KacgujXi04
HOW TO FILL TEST BOOKLET NO. ON OMR SHEET
If your TEST BOOKLET NO is "275256" (as printed on your Test Booklet)
Fill the TEST BOOKLET NO Digits in the given box and fill the respective bubble below.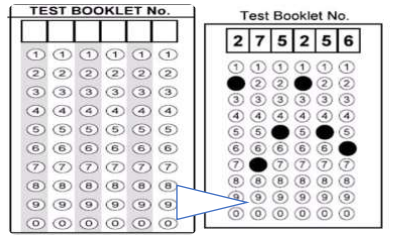 (WATCH VIDEO ON HOW TO FILL OMR SHEET): https://youtu.be/1KacgujXi04
"Believe in yourself as you get ready for the exam. If you believe in yourself, nothing can hinder you from achieving success.
Kranthi Keen School Wishing You All the best for your exams.
We know you'll make us proud"