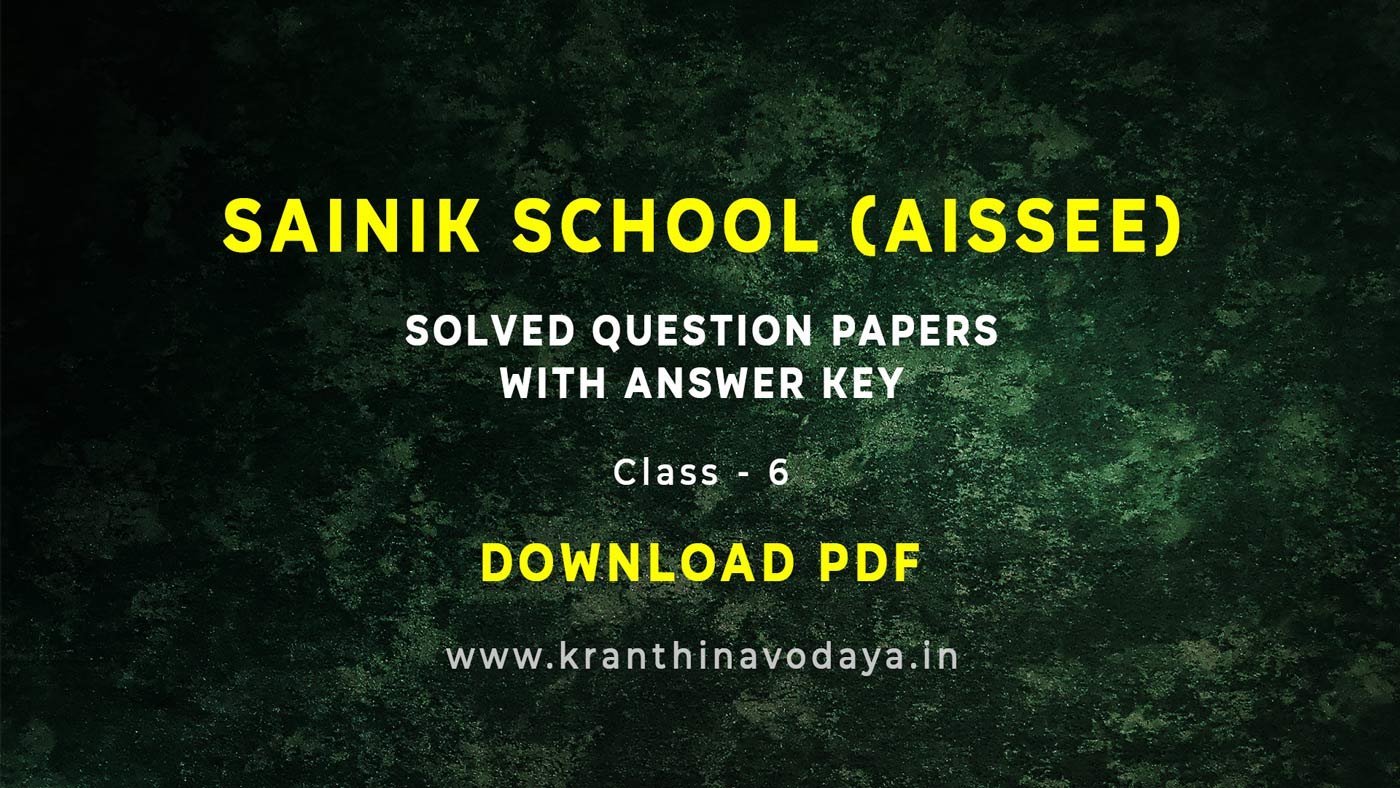 Note: ALL ANSWER KEY - PREPARED BY KRANTHI KEEN COACHING (Hyderabad)
Sainik School Entrance Exam (AISSEE) Class 6 Previous Year Question Papers with Answer Key
Welcome to our comprehensive collection of AISSEE previous year papers and answer keys! If you are preparing for the Sainik School Entrance Exam (AISSEE), you've come to the right place. This page is designed to assist you in your exam preparation by providing access to solved questions from previous years' exams.
The Sainik School Entrance Exam is a highly competitive and sought-after examination conducted for admission into Sainik Schools in India. These schools are known for their disciplined environment, rigorous academic curriculum, and holistic development of students. To secure a seat in these prestigious institutions, it is crucial to be well-prepared and familiar with the exam pattern and question types.
Our page offers a valuable resource for AISSEE aspirants, presenting a curated selection of previous year papers and their corresponding answer keys. By accessing these solved questions, you can gain insights into the exam's structure, identify important topics, and practice solving different question formats. This material serves as an excellent tool for honing your problem-solving skills and enhancing your exam performance.
Each previous year paper is accompanied by a comprehensive answer key, which enables you to self-assess your responses and identify areas where you need improvement. The answer key provides detailed explanations for each question, ensuring that you not only understand the correct answer but also grasp the underlying concepts and reasoning behind it.
Sainik School Entrance Exam Class 6 Previous Year Papers (Available) 
The Sainik Schools Society, as we all know, holds the All India Sainik Schools Entrance Exam each year. The first Sunday in January is typically when exams are given, and they are written tests. Candidates who pass this entrance exam will be eligible for admission to different Sainik Schools. After passing the AISSEE Exam, the Interview, and the Medical Fitness Test, Sainik School Society offers admission to classes 6 and 9. Following the selection process, many students apply for admission to Sainik Schools.
Students can complete their preparation for this entrance exam by clicking on the links below to download and review the previous year's question papers.
All India Sainik School Entrance Exam (AISSEE -2022) | Previous Year Question Paper with Answer Key
Make the most of our AISSEE previous year papers and answer keys to strengthen your foundation, boost your confidence, and improve your chances of success in the Sainik School Entrance Exam. Start exploring our collection today and embark on your journey towards securing admission into a prestigious Sainik School!
For Sainik School Coaching, Contact Us
All India Sainik School Entrance Exam (AISSEE -2021) | Previous Year Question Paper with Answer Key | 07 FEB, 2021
Join Kranthi Keen | Ranked No. 1 in Telangana for Sainik School, RMS & Navodaya Vidyalaya Entrance Exam Coaching for Boys & Girls

We Nurture Young Minds to Crack Sainik School, RMS & Navodaya Entrance Exams
Sainik School Entrance Exam Update